The San Clemente Single Tracks is the common name for the trail network at the inland most portion of the San Onofre State Beach. The place has been around for quite sometime and is still often referred to as "The Weed Patch" by those who created and maintained the trails. Most of the trails here were in the social status until a few years ago when the state beach managers legalized pretty much all of the existing trails. Legalizing these trails helped to better document the recreational use of this area and assist in stopping a toll road 241 from coming right through where the trails reside. The result, miles of some of the nicest legal coastal grassland singletrack you find in Southern California. What is really cool about this trail network is that it is real singletrack being only 12-16 inches in most places. It is really tough to ride all of the trails here in a single setting as the layout requires you do some doubling back here and there, but 15 plus miles with just a few do-over sections is easily obtainable here.
Directions: There are two primary trailheads to start from. I prefer to start from Steed Park.
Steed Park Trailhead: From I-5 in San Clemente take the Ave Pico exit. Turn east and take Ave Pico 1.7 miles. Turn right onto Ave La Plata and travel south for 1.4 miles. Steed Park is on the right-hand side of the road just as you can see the road dead-end. You can also park at the end of the street. The trails start just past the end of the road.
Cristianitos Road Trailhead: At the south end of San Clemente on I-5 take the Cristianitos Road Exit and turn east. Just to the east of the freeway is the intersection of El Camino Real. Park anywhere near this area. A doubletrack access road is just to the south of Cristianitos Road that you can use to go east into the trail network.
Maps: Here are two maps of the area. Both should scale to fit on 8.5" by 14" paper. The one on the left is my hack job map. The one on the left is the offical state beach trail map.
Data Files: These data files are not very well setup for you to just upload and go as they contain numerous tracks that are not continous and often overlap. Use them for "Situational Awareness Only".
For those of you looking for GPS files you can upload right to GPS and go for a ride, John Early (who knows the area like the back of his hand) has graciously provided a few tracks for your riding pleasure. Take your pick from:
Long Full Tour, Medium Tour #1, Medium Tour #2, Longish Tour with some northern section fun
Trail Etiquette reminder: The great singletrack out here will only stay single if we all stay on the trail.
Ride within your skill level and control your bike (Don't blow turns and don't be a Skidiot).
Use the Singletrack Yield: When yielding to another rider don't just ride OFF TRAIL around each other. That is NOT a yield at all. That is a "I'm in too much in a hurry to be slowed by you" move, not cool at all. To do the Singletrack Yield: Stop your bike, put a foot down to the outside of the trail and LEAN you and your bike out away from the trail. The rider you are yielding to can then can pass without leaving the track.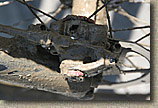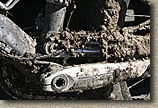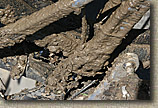 This place does not handle rain well at all so give the trails a few days to a week or more based on how sizable and long the rains have been. The soil here turns into that sticky stuff that clumps and globs onto everything turning your bike into a 100+ pound non-pedaling no-wheels-rolling mess.
Description:
This trail system is considered an Orange County Gem and the riders are really proud of this network and take care care it. While on a sizable group ride predominately consisting of Orange County riders, I pointed out that while the main trailhead is in Orange County, all of the trails are actually in San Diego County. Boy did that go over like a fart in church! For you OC types out there, please take note I have listed this trail in the Orange County section. :)
This description is not like most of the my other reviews. There are a thousand different ways to skin the cat here. Even if I gave you exacting directions, they would most likely not translate well when out on the trail. So I'm going to give you a general description of trails in the north, middle and southern sections instead. While it is easy to find yourself unsure of your exact location it is somewhat hard to get lost-lost out here.
When you start from Steed Park you are basically at the top of the trail system. There is a fireroad that runs north-side along the top of this trail system. At the bottom trail system is a singletrack called "No-Tools" which also bascially runs north and south as well. There quite a few trails that work their way between the two. Even if you get pretty confused you can typically just do down to get to No-Tools or go up hill to get to the upper fireroad. (Note: Some people refer to No-Tools as Ammo Cans as there are ammo-cans welded to the tops of small posts here and there along the trail. Not sure of what they were used for. No-Tools gets it's name from the fact that the guys who made the trail did not use any tools. That just road the same line over and over and the next thing you know, a trail)
Middle Section
From the end of La Plata you will continue straight where you will cross a fireroad where a singletrack is directly in front of you. This is Holeshot (One of many that you won't on the San Onofre Map). This trail gets is name from riders racing down La Pata where there is plenty of roam to pass and muscle for the front of the line onto this singletrack. Holeshot is bunch of fun, flowing and fast in the upper part transitioning into switchbacks further down before you get to an interesting couple of bridges. This trail is always a good opening option. Holeshot is also a good option for climbing back up from the bottom later in the ride.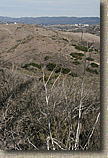 Another really good starting option when you come off of La Pata is to turn right on the fireroad. After about 30 yards, take the singletrack that goes off to the left. This trail is called "Blue Chair" and you will soon see why it is called that. This trail contours to the south and while it rolls a little up and down, generally maintains it's elevation. The first sizable intersection you come to on Blue Chair is right underneath a powerline tower. If you hang a left here you can start dumping some elevation as you head down to a trail I believe is called Hully Gully (Could easily be wrong). Going straight at this intersection Blue Chair continues the contouring and soon crosses a bridge. This section is a heck of a lot of fun and goes on for just under 3/4ths of a mile. Blue Chair then comes out onto another doubletrack which is excellent option to turn left and head down the hill. Blue Chair also continues on past this point (recent addition not on my map)
If you turn downhill from here you can grab some speed in a hurry before you have to climb up a small knoll before descending further down the hillside. There is singletrack off to the left shortly before you have to start climbing up the knoll. This trail is Bridges. It is a lot of fun and yes it has a bridge or two on it. (Note: The bridge is large enough that it can be seen using Google Earth) Bridges takes you down to No-Tools in a hurry. Bridges is also one of the thougher climbs coming from the other direction.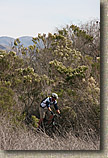 If you did not take Bridges and instead climbed up to the knoll you can take "Wallstreet" down off the knoll. This is a very pretty trail in spring with its sweeping turns down a steep hill. This is one of just a few hills out here that are pretty much in the hiking catergory on the way up. This trail will also take you down to No-Tools.
"No Tools" is basically the main connector trail at the bottom. It is also pretty darn fun so any combination of trails you take downhill from Steed Park will eventually lead you to someplace along this trail. It varies from twisty to fast and flowful with some steep but short up-and-downs interspresed along the way. While I can't remember the name of the trail, I have annonated on my map as the easiest uphill route. This trail was built by single-speeders (like many of th trails here) and it shows in the design. Instead of a series of typical switchbacks, this climb features beautifully curved radius turns that will allow you power through the turns and hopefully maintain momentum.
Southern End
If you keep riding along No-Tools you will eventually pop-out onto Cristianitos Road. If you ride towards the ocean for maybe 50 yards you can pick up a singletrack off to your right that will go uphill towards the powerlines. From there you take the powerline access roads further uphill to the top of firebreak. The first access road that you come to deadends after a bit of climbing so take the second one. Follow the bike tracks. Descending the firebreak is "interesting" After you bottom out on the firebreak be on the lookout for a singletrack off to your right. These leads to some more singletrack goodness that will once again loop you back down to No-Tools.
Note: If you parked at Cristianitos Rd and El Camino Real or are at the San Mateo Campgrounds you will be coming in on the these fireroads by the powerlines.
Northern End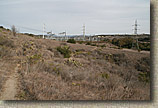 Another good starting option from Steed Parkis when you come off of La Pata is to turn left on the fireroad. In about 1/10th of a mile you will see a double track off the right heading towards a couple of powerline towers. Make that right and you will almost immediately take a singletrack off to the left. This is a nice rolling downhill with a couple of G-outs and a couple of steep up pitches thrown in to keep you honest. It will work its way down towards the bottom of Holeshot. After joining up with holeshot you will continue along the trail where you come to a small bridge with a trail map sign close by with the number seven posted on the top. I have annontated that spot on my map. (It would be really helpful if the park would do the same on their maps). Cross the bridge and continue along the trail. In about 2/10th of a mile just after the trail bends to the left you will come to the intersection of a trail coming down from the hill off to your left.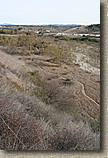 Staying on the trail you are on will quickly take you out to the northern end of No-Tools. If you take the trail to your left you can get to most of the trails in the northern portion of this area. This trails climb steeply at first but quickly mellows out when it gets up onto the ridgeline. There are some really nice views to enjoy both down to your left as well as down into the San Mateo Creekbed to your right. After 3/10ths of a mile you will come to a Y in the trail. Taking the right split pretty much stops the climbing and will take you towards a power-substation. That is an area worth checking out.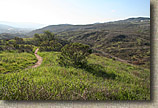 Taking the left option will keep you climbing for while. After another 3/10ths of a mile the trail bends to the right as another trail splits off the left. The trail off to the left is a bunch of fun as it sheds a good chunk of elevation before popping you on the powerline fireroad. From here if you go left you can climb back towards the Steed Park entrance where you can hit another loop. If you go right you will can some elevation and loop around to further explore the northern end of the area. Picking up the ridgline singletrack at the very top so you can enjoy it going in the downhill direction is a really solid choice.
Map and Trails Update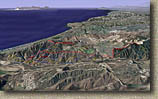 It was not long after I first published this page that the locals started feeding me lots of trail names and other maps. These were all better than the stuff I created. Most of the names were different than what I had used. There seemed to be just as many names for the trails as there were trails themselves. So instead of wholesale changing my map around. I have included some of the other data I got. To the left is a Google Earth shot of the area that depict a bunch of the trails and their names. Here is the associated KMZ file. (Thanks Jared)
Summary
Well two things are pretty certain. First, you are most likely more confused about this place after reading this than before you started. This place can be a little confusing and no matter what I write you will need a few to a dozen rides out here to figure it out. I like places that I always feel like I'm exploring. Second, I'm pretty sure you are going to enjoy yourself if you take a ride out here. You should have noticed that I have pretty much every seasons covered for this place. While the greenery of springtime is not to be missed, it is a great place to ride anytime of year.