The Hurricane Cliffs Trail System
This trail system was Day 4 of the Spring 2005 Roadtrip
First a little local "axscent" lesson: Hurricane is pronounced "Heruh-cun" by those who live in the town. I'm not sure what this refined vocabulary skill will do for, so let me know if you get a "local" discount on coffee at 7-Eleven or something.


The Goulds Trail
The Hurricane Cliffs trail system, consists mainly of the Goulds Rim trail, the Goulds trail, the JEM Trail, and the Hurricane Rim Trail. These trails form a 21.5 mile loop of which about 19 miles of so of it is mighty fine singletrack. We did this loop counter clockwise starting from the Hurricane Hill trailhead. The ride started out with a 2 mile or so fire road climb up to the Goulds Rim trail. Goulds Rim is mostly a gradual climb, but with the scenery you will barely notice you are climbing. There are even some short descents here and there to spice things up. From the Gould Rim trail we took the Goulds trail we was very twisty and interesting with lots of whoop-de-doos. There was more substantial climbing here but they were all short spurts type of climbing where you only notice the overhaul gain when you look behind you. Goulds brought us out on highway 59 and the junction with the JEM trailhead. The JEM trail is all about catering to your inner speed demon. Near the beginning of the trail are some technical switchbacks but those soon give way to blazing downhill singletrack that works its way across open grazing land. We screamed along the JEM for what seemed like forever but in reality was close to 15 minutes. Somewhere along this singletrack my bike computer registered the max speed of the day at 29.5 mph. We were actually a little speed limited as Billy's trail bike did not have a big ring and he could only spin so fast. We nearly blew by the junction with the Hurricane Rim trail as the JEM trail continues on downhill towards the town of Virgin. Once on the Hurricane Rim trail we were treated to the most scenic views of the entire ride. Often times you are peering down at the Virgin River far below in a very rugged canyon. We spent most of our time climbing on this superb singletrack back to the truck. Next time I'm going to do this loop in other directions as it will be great either way.


The Hurricane Rim Trail
This trail system was not in the Mountain Biking Utah Guide Book (by Falcon) that I bought while planning this trip. Utahmountainbiking.com is an excellent trail resource and they have outstanding directions and GPS data for this ride. You can also buy an good map through their site. It is also a good idea to swing by or call the Red Rock Bicycle shop in St George for the latest local updates. They are very cool and in the know on the Mountain Biking scene in the St George/Hurricane area.
| | | | |
| --- | --- | --- | --- |
| Boat? Okay I give up, Why? | Nice Sign! | Zion from the JEM trail | Gratuitous bike shot along the Hurricane Rim |
| Cattle/Horse Guards and Bike Overs, way cool! | A good way to store your map | Nearing the end of the Hurricane Rim trail, the town comes into view | Goulds Rim |
| Gould Rim | Gooseberry Mesa from the Goulds Rim Trail | Hurricane Below | More of Hurricane |
| | | | |


Along the Hurricane Rim Trail

Gooseberry Mesa from the JEM trail


Along the Hurricane Rim Trail
Video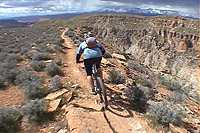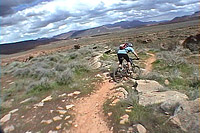 A few frame shots from the video
Right Click on the image to the left to download the 45MB video that runs a little over 7 minutes