This site will look much better in a browser that supports web standards, but it is accessible to any browser or Internet device.
Banner Forest near Port Orchard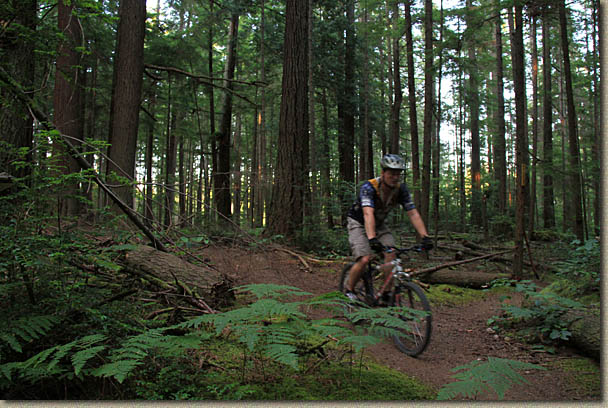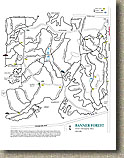 My first time at Banner Forest was in December 2008 when I spent a week in the Puget Sound/Seattle area. I was finishing up work one afternoon when the Sun made an appearance. I had not planned on grabbing a rental bike until later in the week so there I was off work with sunshine, no bike and just a couple of hours of daylight left. The time involved with chasing down a bike and then getting to a trailhead would have eaten up my daylight so what the heck, I went for a hike. While I only hiked about 3 of the roughkly 10 miles of singletrack out there I had seen enough goodness to make a point to ride here the next time I got a chance.
In the Summer of 2010 work took me to Bremerton for five weeks and Banner Forest went into rotation as a typical post-work MTB ride. Needless to say I have been on every trail in the place and it is just simply a really good place to ride and despite not have much elevation change, you can get a really good workout with all the quick up and downs and twists in the trail.
Directions:
From Highway 16, take Sedgwick Road about six miles to Banner Road and go south on Banner Road to the intersection of Banner and Olalla Valley Roads. Trailhead will be on your right.
You can also get to this area by ferry with just your bike. If you do that you will have to ride about 3 miles or so to the east from the Southworth ferry terminal on Sedgwick Road to Banner Rd. You will certainly want to duck into the trail system at the north east corner of the property just after Overra Rd at the blue gates.
Ride Report:
If you take a look at the map you will see there is a bunch of trails at this place. Most of the major ones are marked at the trail junctions. It is well worth your while to ride everything out here, Here are some the stand out trails and areas that are not to be missed.
Wired Brain - Lots of twisty stuff as well as some short pitches in elevation. It is just a ton of fun.
Capitulate- Very fun and twisty as well as having a few log rides to play on.
Wormhole - A great bit of singletrack that has been expanding to longer that what is currently show on my map.
Curveball followed up with MishMash - See how fast you can go on Curveball. MishMash is one of the longest bit of singletrack out there they has not junctions which allows you to just get in a grove and not have to worry about navigation for a while.
San Francisco and Oakland Loops - This area makes good use of the elevation and is a tight and twisty bunch of fun.
It is easy to get yourself turned around out here but it really hard to get lost in a bad way. One of the nice things about this place, is that it gives you the feeling of being out in the middle of nowhere while actually never being too far away. Even if you get completely turned around at some point you will pop out onto a dirt access road that meanders through the middle of the place.. You can stay on the dirt access road and end up at either Banner Road or SE Olalla Valley Road. Somewhere between these two points you should be able to regain your bearings. If not you will figure out when you get to the blue gates at the pavement/trailheads.