Located on the the eastern slopes of of the Olympic Peninsula in the Olympic National Forest this loop should impress even the most discerning singletrack connoisseurs. The route is comprised of the Lower Dungeness trail and the Gold Creek trail with some forest road riding used to connect the two. Narrow singletrack abounds on this 18 mile route that varies from meandering between old growth forest along the picturesque Dungeness River to clinging to the side of steep hillsides as you cash out 2,000 feet of elevation on the Gold Creek trail. I did this route and a cloudy and foggy day that had an ethereal feeling in the air that added a special something to this ride that I can only meagerly describe as "Chicken Soup for The MTB Soul".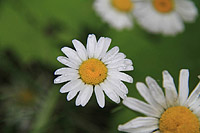 Directions: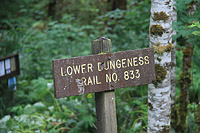 From areas to the east: Traveling north on HWY 101, 15.6 miles past the junction with HWY 104 turn left on Louella Road. ZERO your odometer. At 0.9 miles turn left onto Palo Alto Road. At 6.7 miles bear off to the right onto dirt road FS 2880. You should see signs for Dungeness Fork Campground and Dungeness Trailheads. At 7.5 miles you will pass the Dungeness Forks Campgrounds. At 8.4 miles you will come to the junction of FS2870 bear to your left. At 10.9 miles you will come to the junction of FS 320 on your left. Turn left and take FS320 down the hill. At 12.9 miles the Lower Dungeness Trailhead will be on your right as well as a parking area.
Hazards: You can be a long way from help with no cell coverage. Narrow singletrack along steep hillsides. Somewhat hidden exposure to virtual cliffs. Quickly changing weather conditions.
Resources: I have included a GPS track in the files here for the roads to get from HWY 101 to the trailhead. From all the information I gathered the couple of miles of the Lower Dungeness Trail can be pretty steep and often muddy which can result in some Hike-A-Bike. A common route is to climb on the forest roads to bypass this section and reconnect with the Lower Dungeness Trail by taking the 3 O'clock Ridge Trail. Considering that it had been raining the day before, I opted to bypass the first section. On my map and GPS files I have manually drawn in that track if you should go there in drier conditions. Files: GPX, GDB, KML, TOPO! Have no idea what I'm talking about?
Ride Report: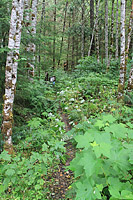 After quite a bit of an adventure making sense of the changed forest service road numbers and outdated directions I finally arrived at the trailhead. On the drive in I had went through varying degrees of fog and clouds that ranged from almost being able to see a blue sky to nearly saying "Where the hell is the front of my car?". It all had me wondering about the threat of rain. At the trailhead there is a self registration box to check yourself in for this ride. Even if you are going to skip the first section of the trail you should do this to help show usage. (See Resources above) The really skinny and lightly used look of the trail along with the current weather conditions swayed my decision to take the forest road route. So off back up the forest road I came in on I went. The numbers say the 0.9 miles back up to the intersection of FS2880 was an 11% grade climb, but it did not seem like it. I was feeling strong but then again I was on a fairly lightweight hardtail instead of my normal beefier rig, but that is another story. I was nearly back to up the junction when sun teased me with a patch of blue sky and sun-rays for the first (and last time) of the day.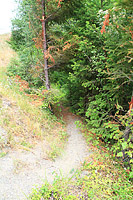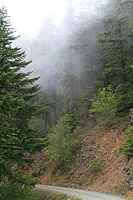 Once back to the junction of FS2860 and 320 (Waypoint LD-GT-01) I turned left and proceeded south and kept climbing. I was in fairly thick clouds now and I kept wondering what views a break in the soup would reveal. At about 3 miles from the trailhead the climbing leveled off and it was mostly a flat cruise for a bit. The clouds thinned just enough to reveal "trees in the mist". While I could not see the river below I could certainly hear it. It is amazing to me just how loud even fairly small bits of flowing water can be. I could only imagine what the view might be from here. Maybe there was no view at all of the river with all the trees around. I was already thinking about a clear day return to the area and I had not even hit the singletrack yet. The forest road soon started descending and I knew I was getting close to the 3 O'clock Ridge trail. "Easy To Miss" was how it was described to me and I can certainly agree with that assessment as the trail merges onto the road from your right in the direction you are traveling. It is Waypoint LD-GT-02 on my map.
Riding in the clouds below 3 O'clock Ridge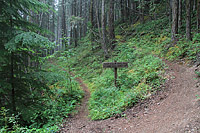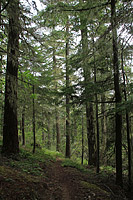 The 3 O'Clock Ridge trail is a nice skinny singletrack that descends off of the ridge with four or five switchbacks over the course of half a mile to connect to the highpoint of the Lower Dungeness trail. It was an exceptional opening bit of singletrack to get pumped up for things to come. Once on the Lower Dungeness trail the exceptional singletrack and eye popping greenery had me smiling. The soft light of the cloudy day was just as visually engaging as I imagined a sunny day would be. This type of day is really good for taking photos in the woods as there are no harsh shadows to muck things up. The next 1.2 miles was just about all downhill with undulations here and there as you worked your way down towards the Dungeness River.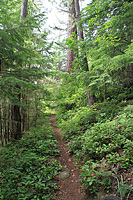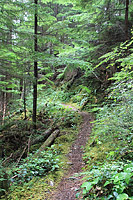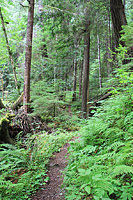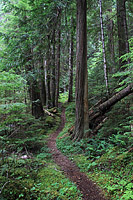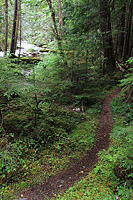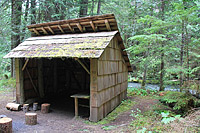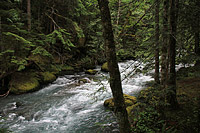 Once down close by the river the trail twisted and weaved around impressive trees. The place had a rainforest type feel to it with a thick blanket of pillow thick moss covering just about everything on the ground but the trail. While I saw peeks of the river the noise of it was quite impressive. At around the 6 mile mark(overall) the trail takes you by a River Shelter. You can find these on various trails in Washington and while I have not read up on their official use, I'm sure it is something related to public safety and the finicky and often tough weather of the Pacific Northwest. From this point on the trail gains elevation as it bobs and weaves alongside the river. Everywhere I looked there were Kodak moments going by. It was not the long scenery that you get in places like Poison Spider Mesa or the Rainbow Rim Trail, but instead it was this glorious short scenery that was only enhanced by the fog and clouds.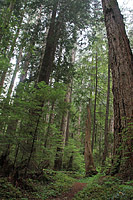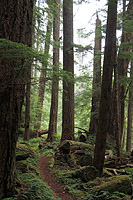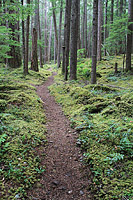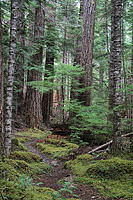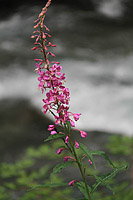 At 7.5 miles the trail comes out at a primitive campground and then out onto FS2860. Turn left and you will almost immediately cross a small bridge over the Dungeness River. On the other side of the bridges is a trailhead staging area for the Upper Dungeness trail as well as couple other trails that go up into the Buckhorn Wilderness and eventually into the Olympic National Park. From here pass the staging area on your right and continue on the forest service road. You will climb for a very short distance before the road turns into a downhill cruiser for nearly a mile before the road turns back uphill.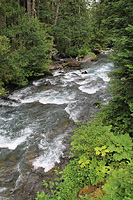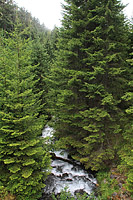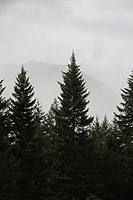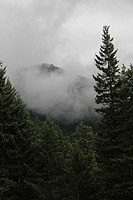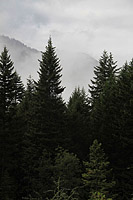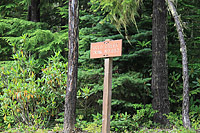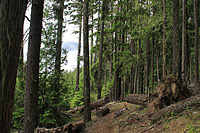 Once you are back on the climb it is a fairly steady nine percent grade the rest of the way up. After 2.5 miles of climbing (11.3 miles total) you will see the Tubal Cain trailhead and staging area on your right (Waypoint LD-GT-05). Look to your left as soon as you see it you should see a sign for the Gold Creek Trail on your left up on a small embankment and about 10 feet off the road. It is sort of easy to miss as you go by because your attention is naturally drawn to the Tubal Cain trailhead first.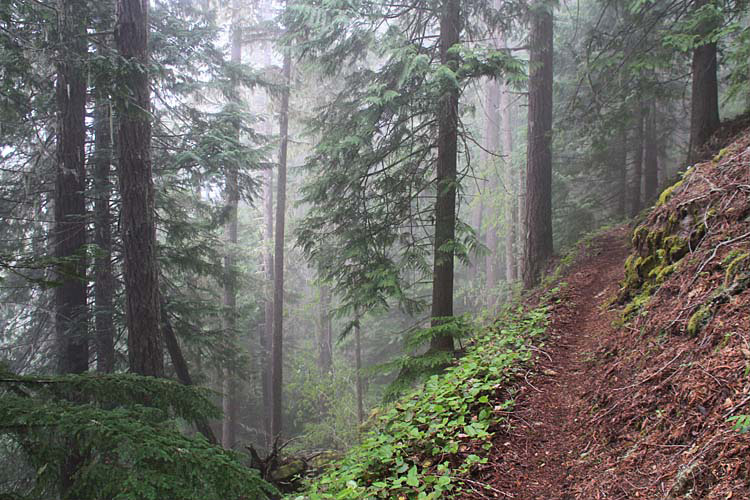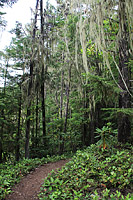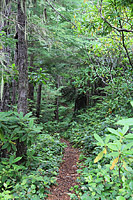 Be ready for some seriously incredible singletrack. The Gold Creek trail is one of the most narrow and buff bench cut singletracks I have had the pleasure to ride. The first 3/4ths of a miles is a fairly level transverse before you start shedding off elevation. I thought the clouds were going to break for a short while, but they merely thinned before settling back into a pretty thick sound that gave the trail an ethereal and sometimes spooky feel about it. I have a bear bell (back in SoCal) that I sometimes put on my bike when I am riding select trails in Southern California where I want people to know I'm coming. This was my first time riding when I really wanted a bear bell to be used for it's as-built purpose. Before I knew it I found myself whistling and making noises just to make sure that I would not come around a corner and surprise anything further up the food-chain than myself. There was one moment when I was taking pictures that I got a distinct feeling that I was being watched. Wither it was just head games or not I will not know, but I was not going to gamble that maybe some long unused protective senses was at work here for my benefit. I got back to riding sweet singletrack and left the "Willies" back up the trail.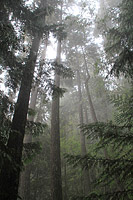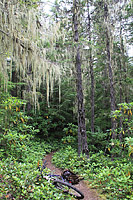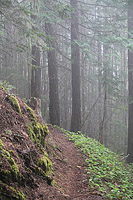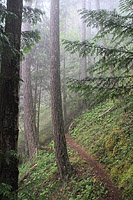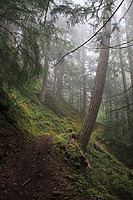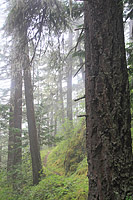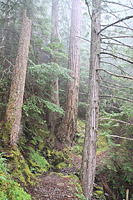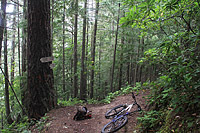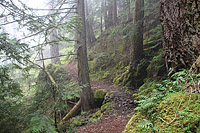 There is sizable exposure in spots along this trail that is often deceptively hidden by the vegetation. There are a couple of spots that should you take a spill and your bike goes with you down the hill, rescuers could have a tough time finding you. This is a also a good reason to log into the kiosk at the trailhead. These exposed sections alone dictate that this trail is best left to experienced cyclists who are comfortable holding a narrow line. At 14.5 miles into this loop, you will come to a trail junction (Waypoint LD-GT-06) You will want to stay to your left at this junction. From this point you will continue going downhill going around the north side of a ridge before having to do some grunting as you regain about a total of about 200 feet of elevation in about 4/10ths of a mile. After this grunt work you will cash out the rest of your elevation piggy bank in a rather quick fashion down to Gold Creek. (Waypoint LD-GT-07)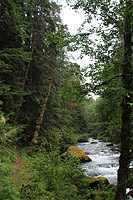 There is a pretty cool log bridge over Gold Creek just before it's confluence with the Dungeness River. The trail then goes down right along the river before making a quick pitch and coming out onto the old forest service road that used to be the way into the place. The forest service has simple decommissioned this road and is letting mother nature reclaim it. The old road already resembles more of a trail than a road now. Bear to your left and head towards a bridge which you should have been able to see just a little earlier. After crossing the bridge (Waypoint LD-GT-08) the trail/old road bears to the left and heads uphill. In a little less than a mile you will be back at the Lower Dungeness Trailhead where you started. If you signed in at the registration box at the beginning of the ride, make sure to sign out before you leave.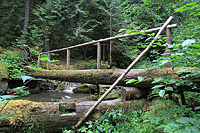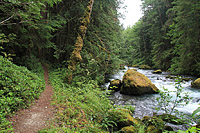 This loop will put about 18 miles and plenty of climbing in your legs. It should also put a serious smile on your face. This is a wonderful little corner of the Olympic Peninsula that you should really consider getting into if you should find yourself anywhere near here.