After all the fun on the lunch loops in the morning, we spent the lunch hours chilling for a bit before realizing that we had some party supplies to gather for the surprise party for Chris Muir's birthday. The general plan was that one of his buddies was going to take him on a ride in the Kokopellis area starting from Mack Ridge/Moore Fun trailhead. While they were out riding a group of his friends were going to gather up at the trailhead and setup a potluck of grub and brews and surprise Chris at the end of his ride.
Our plan was to ride Moore Fun starting from the east end near the Kokopellis trailhead. I had ridden this area once before in 2005 but had not made it onto Moore Fun over concerns that I did not have the needed technical skills. This time I was looking forward to testing my skills on this ride. By the time we got all the stuff together for the potluck and out to the trailhead is was a little later in the day that we were planning on.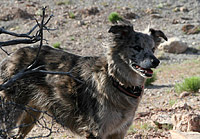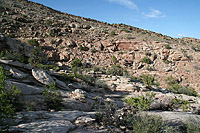 Kevin's dog, Lulu, would be joining on this ride. She is great trail dog who fits somewhere between cheerleader and dedicated bike herder. We still have not gotten another dog since we had to put our beloved Taffy down last year so it was great to have a dog around again. We struck out onto the singletrack that was mostly buff at the beginning but it did not take long before the trail turned up and started working its way up onto the ridge. After this the trail is pretty much technical all the time in one fashion or another.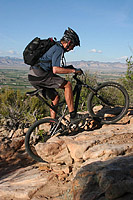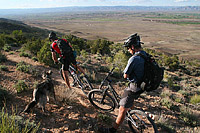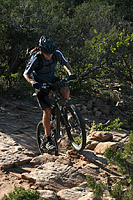 When climbed our way up to a second viewpoint which was even better than the first. We could see most of the trail system below including Mary's and Horsethief Bench. We could even see a couple of dot-sized riders out on Horsethief Bench. At this point we realized that we were running a bit short on time.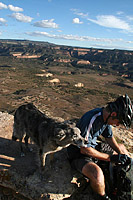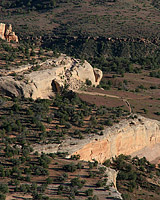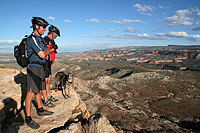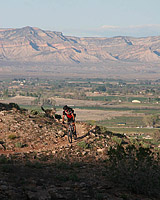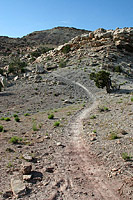 The original plan was to do Moore Fun as an out-and-back to get the full experience but we would not have been able to pull that off. Our options and this point were to finish off the trail and then loop around on the frontage road or on Mary's Loop . Chris was out there somewhere below and we did not want to risk ruining the surprise by running into him on the trail. The frontage road would be boring. We had enough daylight left; the issue was getting to the party in time.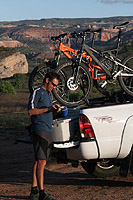 We opted to turn around and enjoy what we had done of Moore Fun so far in the other direction. What a hoot, and downright tricky in plenty of spots. There is a good reason for the sparseness of photos from the return, I was having sooooo much freaking fun! While I would have liked to have seen the last bit on the western end, I thoroughly enjoyed playing on what I had already paid for. This will not be my last time on Moore Fun so I'll catch it some other time. Back at the truck we verified that our refreshments were suitable to share and then headed over to the other trailhead.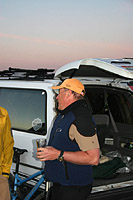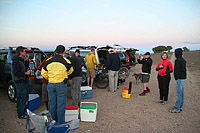 We had a great time hanging with the folks there. Chris was being welcomed into the "club" as the last "young pup" of his normal riding group/friends to turn 50. What an awesome group of folks. They were all dedicated trail advocates, builders, and riders. They have been riding for decades back when the singletracks were the width your tires and the whole region was basically undeveloped or a secret. They told some of the greatest stories of epic rides, death marches, and mountain biking pranks I have ever heard. All my stories seemed pretty freaking tame in comparison so I mostly reveled in the free lessons on "Real Mountain Biking." I have never laughed so hard with a bunch of folks I had just met.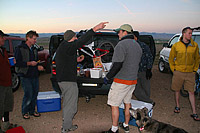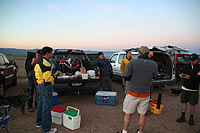 The spirit of camaraderie and the love for our sport and lifestyle amongst this group was truly inspiring. They were all prime examples of what is great about friendship, dedication and living full and rewarding lives. Sure, I still barely know these people from Adam, but the collective bond that we all shared as people who have fallen in love with mountain biking made us all not so much strangers that evening. On the way back to Kevin's house I realized that both my stomach and cheek muscles hurt from laughing so hard. It was another great day to be a mountain biker.