This a really awesome connection of two trails that takes you from Vail Pass Summit down into the town of Minturn via a bit of forest service roads and impressive singletrack. Pines, aspens, meadows, buff stingletrack as well as rocky technical trails and some exposure all come together to make for an all encompassing killer route. At least part of this route is colliqually referred to as "The Commando Run" after the U.S. Army's 10th Mountain Division who used the route for training in high altitude skiing for commando raids during World War II. I did this route on four of my fall 2015 tour through Colorado.
Ride Notes: NOTE: The Two Elk trail is CLOSED annually from MAY 6TH to July 1st for elk calving and migration.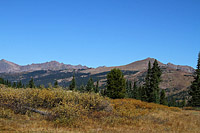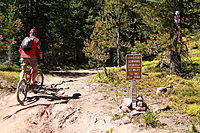 We opted to drive the 1.7 miles from the upper trailhead up Shrine Pass Road (FS Rd 709) and parked at Shrine Pass (Waypoint 2ELK-SPS-TH) to start the ride. We could have drove all the way to start of the singletrack but the forest cruising was going to allow us to get a bit warmed up first. I was told I would need it. From Shrine Pass we cruised/zipped down the forest road north-northwest. There were several lesser fire roads coming off the main Shrine Pass Road until at 2.2 miles, you will bear slightly right (2ELK-1) and started a mild climb on Lime Creek Road (FS Rd 728) . At 2.8 miles (2ELK-2) stay on Lime Creek Rd by bearing to the left. Shortly thereafter at 2.9 miles (2ELK-3) you should see a sign for the Bowman Shortcut trail on your right and that it is 4.5 miles to Two Elk Pass. Take this singletrack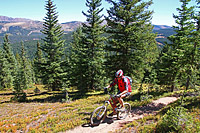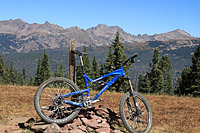 You are at 10,850 feet when you leave the forest road and it not very far along this trail that it turns steeply uphill. My sea-level lungs were struggling but I was doing better than the day before. You will travel through some really pretty pine forest as you work your way upward to a ridgeline at 11,400 feet over the next 1.3 miles. The grade in a couple of spots approaches 20% ---Ouch! There is about 3/4ths of a mile of mild cruising and then you get another steep bit of climbing that takes you up quickly up to 11,600 feet and mellows out to the the highest point along the route at 11,730 feet (At 5.8 miles). It is a damn fine spot to take a break.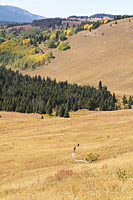 Beyond this point you will descend down the ridgeline towards Two Elk Pass but not before you have to deal with another undulation along the ridgeline. While I certainly classified it as a hike-a-bike, along came a local and impressively cleaned the steep rooty pitch. Once at the top of this pitch at 6.6 miles you are pretty much down with the climbing for the day. It is pretty impressive to think that the Army boys of the 10th Mountain Division cross-country skilled on this trail while were 85 pound rucksacks. You will descend down the ridgeline to Two Elk Pass (2ELK-4-PASS) and a four-way junction where the Two Elk trail crosses the trail.
From Two Elk Pass we turned left (west) and quickly descended down into an alpine meadow area known as the "Back Bowls". It see plenty of use during the winter with the skiers, and its pretty freaking sweet on a mountain bike. Over the next 2. 8 miles we zipped through the meadowed bowls and passed through some sections of aspens as well dropped about 1,000 feet down to the bottom of the bowls were at 10.1 miles (2ELK-5) you will crossed a dirt road that is near the bottom of ski-lift.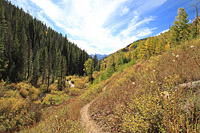 After crossing the dirt road, the trail gradually migrates from open meadows to narrower forested canyon-side riding above Two Elk Creek. The trail becomes more technical along with some veiled exposure. I was extremely stoked with section of the trail. You get the technical aspects along with pictureque scenery. My timing was good for this ride as there were plenty of turning aspens to enjoy.
As move down through the canyon the trail progressively increases in technical skills requirements. At 14.3 miles (2ELK-6) the trail crosses Tow Elk Creek via bring. This is a fantastic spot for a hill chillaxing before finishing off the rest of the trail. After the bridge you will have a very slight bump of a climb before you are back on the descent. The last section of the trail is a mighty zippy section down through the forest until you flatten out at 15.1 miles (2ELK-7) where you will hang a right, cross a bridge that take you out to a dirt road and parking area at a shooting area.
The dirt road is slightly downhill so follow the dirt road for 1.8 miles where you will the dirt road crosses a railtrack and a bridge. Hang on a right onto the paved Highway 24 and coast into the town of Minturn and your awaiting vehichle. Note: There is a trailhead by 2ELK-7 but it is al downhill into town so you might as well park in town....where there is beer! This route including downhill coasting into Minturn is 17.7 miles long with 1,870 feet of climbing and 5,200 feet of descent.
We followed up a tasty beer at the truck with some BBQ in town before we loaded up and headed back up. Over dinner there was plenty of discussion about just how how awesome this trail is and how it really tests pretty much all of your trail riding skills across a variety of terrain. Riding and visiting with these guys over the last two days was a real treat. Once we got back up to the upper trailhead were were all going to be splitting off into different directions. I had decided that I was going to ride the Twin Lake Trail the follow day located between Leadville and Buena Vista. Back at my truck, I noticed that where I parked looked to be a mighty find spot camp that someone had already made a fire ring. So I said goodby to the fellows and as they headed back down the hill, I pulled out the camping gear and setup Casa Del Bill for the evening.