Copper Canyon, Mexico - To Cusarara
Day 3 – The trail to Cusarara


Here is a map of the Copper Canyon Area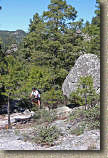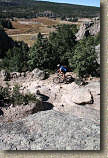 Today was billed as a big day and we would not have the support of the sag van as we would take a traditional trail route from Creel to Cusarara. Once again the day started off with a very punctual and vocally robust rooster announcing the day. After a yummy breakfast we packed up a lunch before hitting a vigorous but short singletrack climb out of town where we rolled on undulating singletrack over both rocks and firm soil as we weaved between pines trees. We worked our way up to and then along a scenic ridgeline heading southeast.


After traveling along the ridgeline for some time we descended into the valley of the of old church and school from yesterday and retraced our route up to the ridgeline saddle before veering off across a farmland pasture on a different route to Lake Arareko.


After a short break at the lake we crossed the only pavement we would see for the day and commenced a steep technical climb that generally alternated between loose rocks and sections of griprock.
After regrouping at the top of the climb we rolled along a forested mesa before we made a quick and technical descent into another narrow valley where we promptly came to an extremely tough hike-a-bike. In some portions it required us to hand our bikes up to the next person and then use a bit of rock scrambling skills. My MTB shoe selection was not the best for this terrain and I puckered on at least one occasion.


For our reward we were treated with an awesome viewpoint in which to enjoy our packed lunches. I believe I had the best ham, cheese, and humus sandwich of my life on that ridgeline. After lunch we hiked-a-bike some more to what we believe was a little over 8,000 feet.


From here we rolled through pine forests before tackling a somewhat technical descent into a Tarahumara ranch. The trail took us right through the "Bull Pen" of the ranch so we were thinking of drawing straws to see who would go first. It turned out to be no big deal, but it was fun to speculate if someone was going to get the bull by the horns. Shortly after the ranch we enjoyed some mild descending along a creek before we had to negotiate technical climb that eventually had us all hiking.
After more fun along a faint singletrack we came to an extremely technical trail. This was not a huckers trail, rather it was a hellishly steep trail with hyper tight switchbacks and sizeable drops often in combinations. Interspersed amongst this technical goodness were some griprock steeps and loose stones. I was pretty stoked that I made it down this descent while only dabbing in the spots that our guide dabbed in. I was jazzed at the bottom and felt like a million bucks. The view of the little meadow that I came out into was worth at least that much.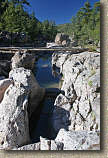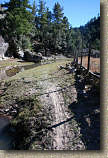 From here we followed a nice flowing undulating bit of singletrack along Cusarara Creek for a couple of miles to the Sierra Madre Hiking Lodge on the far outskirts of Cusarara.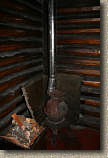 The lodge is quite inviting with a rustic and traditional look that just begs you to relax. It has no power so lighting is provided by kerosene lanterns and you heat your room using a potbelly wood-burning stove. However they did have hot water from either a fuel burning or wood burning hot water heater. That night we enjoyed an exceptionally good meal in the main room of the lodge. We were warmed by a huge fire that burned in a colossal sized fireplace. The atmosphere was festive as we took turns telling jokes and recounted the day's journey as some locals played some entertaining music. Within a hour or so after dinner I was back into a coma for the night.
Other Pictures from the day