Church Rocks, located about 15 miles north of St George, is a great smaller ride in the Red Cliffs area. What the ride may lack in mileage in makes up for with really cool red slickrock riding and some buff flowing desert singletrack. It takes maybe five minutes to get to the trailhead from the I-15 so this is a great trail for breaking up a long drive from say Fruita to San Diego. You can squeeze in a fun ride here and be back on the interstate in well under three hours.
Ride Notes: (Photographic Note - Some of the pictures on this page are from my 2005 roadtrip)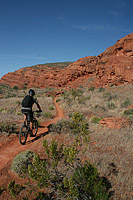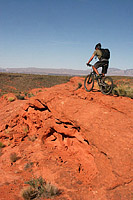 Ouch, Ouch, Moan, Moan, Grunt Grunt! That was me getting out bed this morning. My legs were pretty freaking toast this morning. But Damn It! We having ridden ever day of this trip so far and we are not going to wimp out on the last day. Church Rocks was on the list because it was close to the hotel and I knew the trail well. We could get up early, hit the trail and get back in plenty of time to shower up and head for home by check-out time. Oh yeah, I almost forgot it is quite a fun 11 mile lollipop shaped ride with some great desert singletrack to a nice chunk of red slick rock. You can spend lots of time out on the rocks if you like, or you can just zip around and enjoy the scenery.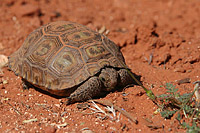 While I call this Church Rocks, this ride is actually a combination of the Prospector Trail and Church Rocks. There are other ways to get to the rocks but I have always enjoyed this route. We started this ride from the Cottonwood Trailhead and rode up the Cotton wood trail for 0.6 miles where we then took a left (south) onto the Prospector trail (It is marked). The Prospector trail also heads off to the north but they was not our ride today.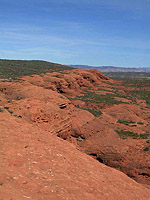 At around 2.5 miles you will notice it get stupidly sandy all of sudden and then you will drop down into Spanish Wash. You can see the trail going up the other side. Push your bike up and out of the wash. The trail firms back up after you get above the wash. The trail is not technical with the exception of one spot where you have to come off of a ledge you have been riding on for quite some time. It is a sizable multi-step down at and angle. It should not sneak up on you.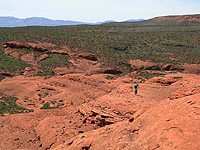 At 3.7 miles you will come to the T-intersection with the Church Rocks trail. You will be coming back from your right, but for now hang a left. At around 4.2 mile you will see a trail splitting off to your left. This is another entrance into the area. If you follow this trail it will take you under I-15. That is not your route today either. Stay on the trail you are on, but be on the lookout for a trail splitting off to your right and onto the rocks. It is less than 30 yards further than the trail from the promient split off to the left you just pasted. It is also right where you think it should be as there is a less steep transition onto the rocks. Look for cairns.
Once up on the rock the trail can get a little vague, but you can free form a round a bit and find your way. Make sure to stay off of the soils, unless you are on the trail. The trail and the rock will have you working your way back north until at around the six mile mark you the trail takes you down off the rocks at which point in turns back to the south. At 6.5 miles you come to the T-intersection you were at earlier in the day. Turn left onto the Prospector trail and retrace your way back to the trailhead. Your mileage should be somewhere around 10.5 miles or so depending on how much playtime you had on the rocks. There are more trails in this area but they are not all bike friendly trails. Make sure to check out my first experience out there on in 2005.
This ride was the butter on our toasted legs. I was really glad I had cruise control in my truck as it even hurt to use the gas pedal. The drive back to Southern California gave plenty of time to think about just how awesome a time we had over the last week. I was totally stoked. We squeezed in ten rides in eight days with nine of them being new trails for me. I had seen some of the incredibly expansive landscapes and ridden on trails that redefined my ideas of beauty, technical features and fear-inducing exposure. This was a killer once in a lifetime quality trip that I hope to do nearly every year.