Sometimes known as The Holy S%&T! Trail for first time riders, this is a really fun Orange County ride that will test your bike handling skills. The Holy Jim trail is a very diverse trail that has you has crossing rocky creeks, riding among ferns and other greenery, and navigating loose rocks on skinny track. It will test your switchback skills and as well as your nerves on off-camber turns. With an a elevation change of 2,275 feet over 5 miles it will test your legs as well on the way up.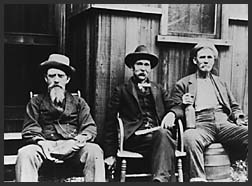 TRAIL HISTORY: (From the Cleveland National Forest Website) If you expect that the Holy Jim Canyon is named for a pious, early preacher in the Santa Ana Mountains, you would be very wrong! Jim Smith was a beekeeper who settled in the north fork of Trabuco Canyon in the 1870s. It was said that: "Jim Smith was a talker...no ordinary talker... a man given to blasphemous eloquence. When he started cussing... he could peel paint off a stove pipe." When government surveyors first mapped the canyon, they chose to name it "Holy Jim" rather than "Cussin' Jim," since the word "cussing" was considered neither polite nor appropriate for a government publication.
Directions: Take the I5 North (from San Diego) and exit El Toro Road and head East. El Toro turns into Santiago Canyon Road. Make a right on Live Oak (Cooks Corner) and follow that 4.5 miles. After you cross Trabuco Creek turn left onto the dirt road and take it 5.5 miles to its end. Park there at the end and the trail starts from there. The dirt road can be pretty rough, so ride with someone who has a truck. Some people park right at the beginning of the dirt road and ride their bikes in to the trailhead.
Wild Fire Impact:This area has seen two wildfires since 2018. The USFS has closed the road leading to the trailhead that services Holy Jim, Trabuco and West Horsethief. Additonally, Main Divide Truck Trail is closed from Santiago Peak to the junction with the Indian Truck trail which impacts access the Cold Water Canyon Trail as well. The closure is currently ordered until at least May of 2023. Many believe that he USFS is slow rolling the reopening of these trails. Here are the Alerts and Notices section of the USFS website.
RIDE NOTES:
Just about every time I have done Holy Jim it has been part of the loop using either Trabuco or Harding Truck trail. The trail is quite climbable but my description of this ride is from the downhill perspective.
Starting out from Main Divide the trail starts with a technical drop in section that can be quite tricky. Going up I imagine it will be a hike-a-bike for most riders. After the technical drop in you a have to do a very short bit of climbing while under a canopy of hardwood trees. Shortly after the climbing section you are out from under the trees.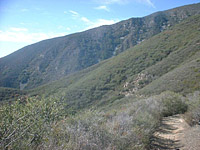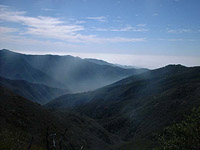 The trail is quite skinny and requires some good bike handling skills, especially in areas where the trail cuts across loose shale "fields". The trail is somewhat steep and about halfway down you encounter a series of numerous switchbacks that are both tight and a little steep. While I cleared them on the way down, a few of them would certainly give me some problems on the way. This trail is often called a "cousin" to the San Juan Trail so I could not help but make some comparisons to that trail. The upper portion of the trail is certainly similar to San Juan but I would have to say that Holy Jim is a tighter/skinnier trail than it's "cousin". I would have say that the tightness of the switchbacks on Holy Jim would make them more difficult to clear than San Juan. However the San Juan switchbacks often suffers from rutting caused by "skidiots" which makes it a toss up in my mind. You will just have to ride both of these wonderful trails and decide for yourself!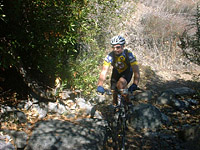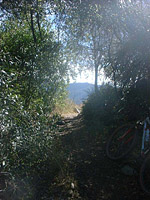 After the switchbacks the trail drops down into the canyon floor and the trail takes on a completely different feel as you are back under the canopy of trees and lush greens provided by Trabuco Creek. You will have to cross the creek about three or four times with at least two of them being portages. Shortly after the creek crossings you will pass by a gate and you will be back on a fireroad with a few cottages on either side. Continue on down the fireroad for about ½ a mile back to the trailhead parking area.
This is a 9-mile ride if you go up and then come back down the way you came. However I think this trails is best combined with some of the other excellent trails in the area for some great loops and epic rides. From the top of Holy Jim you can hang a right over to West Horsethief and the Tracbuco Trail. Or you can a hang a left and go up to Santiago Peak and Harding Truck Trail, Maple Springs, Silverado Motorway, and Black Star Canyon. Basically there is as much fun/pain as you can take available to you from here.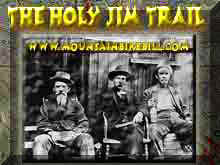 This video was shot in November of 2002. It is uber compressed and barely watchable by today's standards.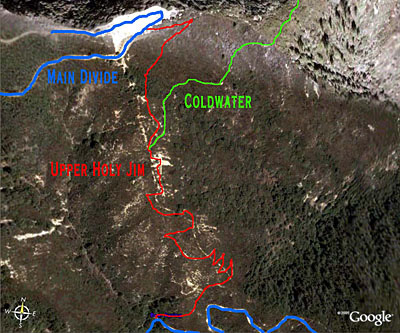 The Upper Holy Jim Trail is short but fun add-on to the Holy Jim trail. If you are doing a one of the big loops that take you over Santiago Peak, such the Harding to Holy Jim loop this is a much better way to go down than using the Main Divide Truck Trail.
Splitting off from the Upper Holy Jim trail is the Coldwater Trail. It is no longer maintained by Forest Service and there are some private properties at the bottom of the trail that causes access issues.
There are at least a couple of single tracks going down the southern eastern slopes of the Santa Ana Mountain Range, Coldwater and East Horsethief. Both of these trails have private property access issues at the bottom. I believe that the population of the communities at the base of the eastern slopes of the Santa Ana Mountains deserve access to at least a couple recreational trails and public easements should be granted for the original (and historic) trails of Coldwater and East.
To get to the top of the Upper Holy Jim from the junction of Holy Jim and Main Divide, turn left and go uphill. The next 1.5 miles can be quite tough on climbing fatigued legs. This section is gravelly and combined with its average grade of 17 percent can be a grunch of work. As you come up to a really large opening at a left hand switchback that has been chewed up by the four-wheeled drive types. Just shy of the switchback is the singletrack heading off to the right. Do not jump down the trail yet. Continue to the apex and take in the great views from 4,874 feet.