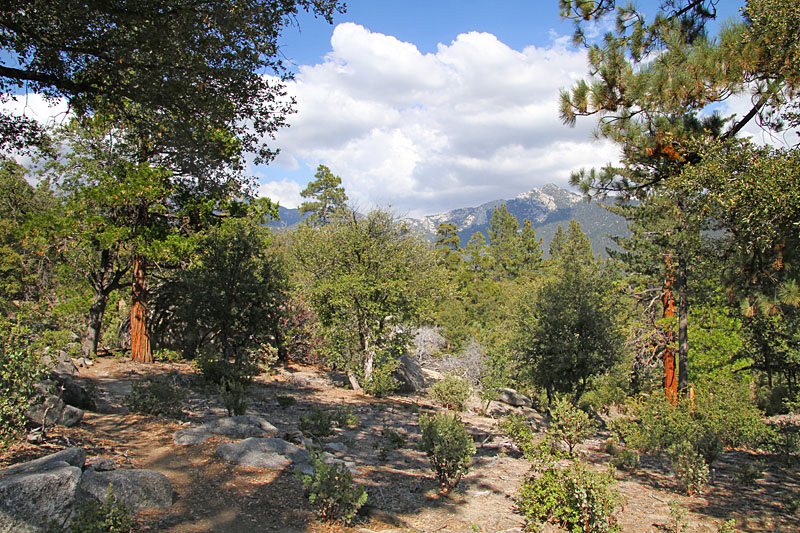 Nestled in the San Jacinto Mountains the small town of Idyllwild has plenty of mountain biking opportunities. I have been riding here since about 2003 and I have found new trails on all occasions.

The place is just awesome with a wide variety trail types that will put a smile on just about anyones face at some point in the ride. It can also put a whooping on your legs and lungs. I have had a 10 mile loop out here fill like 20+. Basically there are plenty of smiles and grunts per mile out here and you should get out here.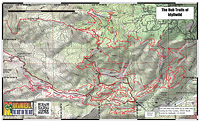 To the left is a PDF map of the area sized to be printed on 8.5" by 14" paper. It is not all inclusive of the trails out here. For the most up to date map swing by Hub Cyclery and pick thier lasted curated map.
Here are the GDB, GPX, and KML files for the tailored routes I discuss below. Click on the icon to the right to see all of my blog posts referencing Idyllwild..
Directions: (From the San Diego Area) Take the I-15 North into Temecula. Take HWY-79 North 24 miles to HWY 74. Take HWY-74 East 17.75 miles (through Hemet and up the hill) to HWY-243. Take HWY243 about 3 miles into Idyllwild. Make a left turn onto Tollgate Road. Follow Tollgate Road about 1.7 miles to its end where it turns to dirt. Park and Ride. Get directions from your current location.
Area Notes: The area that I checked out was originally known as Alvin Meadows on the Idyllwild Chamber of Commerce's site. I called that as well on my site for over 10 years, but the locals refer to the much larger area as "The Hub" Trails since the trailhead is pretty much the hub for a series of trails heading off in nearly all directions. The local bike shop was named after this trail system. The trail system is situated just inside of the San Bernardino National Forest on the outskirts of town. The local mountain bikers have done a fabulous job of making and maintaining a network of really sweet single track that offers a wide array of scenery. Normally I like to describe a particular route but there are so many options here I could not possible describe it. The design of the place makes if so that if you wanted to you could follow a general rule of thumb of climbing up fire roads and going down single tracks. However there are plenty of trails to suit your fancy in the up or downhill directions. The best advice I can give up front is to just get out on the trails and explore or catch one of the shop rides. You can easily fill up an entire season riding out here.

There are no signned trails out here. You will need to be able to read a map. Of course you could just roll out with you GPS and/or map application on your phone, but someday those things are going to fail on you so it best to develop and keep sharp your visual orientering skills.
Tailored Routes (Some of these route names are for the most part are my own created mumbo-jumbo.)
There is no one best route out here but there are plenty of awesome ones. I cherry picked what I consider to be four great "tour" loops and one point-to-point route. All of these routes are contained the in the GPS files linked above.

The "Hub" trail head is around halfway up the elevation scale for the overall trail system so on most routes you will find yourself climbing "home".
All The Way Around: This is a big freaking loop counter clockwise loop this 23.6 miles long and plenty of elevation chnage. It takes you up the east side trails up to Topimator to the higher elveation singltrack goodnesss of Dreamtwister. From there you drop down into Tubs via the Hard Sun and Arch trails. The Tubs trails will bring out to Chimney Flats which the elevation lowpoint of this loop. You can certainly take the OZ and Drifter's Gulch trails back up to the trailhead but I often climb the fireroad back up to the trailhead. Once back at the trailhead (with lunch and maybe a refreshment or two) we will take the those trails mostly downhill back to Chimney Flats and then climb back up to finish the day.
Alvin-Opti-Tubs: From the trailhead you will pick up the singletrack heading off to the south. It is a great start right out the gate. You will get in some climbing as you get to trail called Northface you will will work your way over to a trail called Bear Connector that come out on one of the control fireroad where you will pickup Blackbear and then Rattlesnake. You will eventually come out onto another control road where you will get in some good climbing up towards Pine Cove. Pretty much once you get into the trees you will pick up the Optimator trail on your right where you will enjoy some downhill goodness back down into the main bowl where you where earlier. You will pickup a trail called Smokestack that will take you back out to the previous control road you where on. You will climb just a little bit back up the control road and pick up the Upper Tubs trail on your left. Upper and Lower Tubs are singletrack goodness with some nice flow, natural speed and some rock rollers. Lower Tubs will bring you out at Chimmney Flats. When you come out on the fireroad make a left and go uphill and shortly there after make a right at the next fireroad. Look for a singltrack on your right. This trail appears to have fallen a little out of favor over the last few years but I enjoy it enough to put it on this route. There is one small section that reminds of the Kessels Run in Fruita's 18 road trail system. The singletrack will come back out at the end of the a control road. This is the lowest elevation the ride. Start climbing you the fireroads. You will come back to the junction you where previously at. Continue upwards. At the next fireroad junction, hang a right for an ever-so quick downhill bit before you are back on the climb. At the next fireroad junction hang a left and arrive back at the trailhead.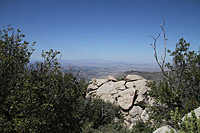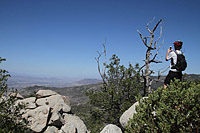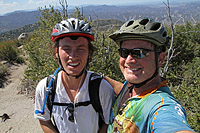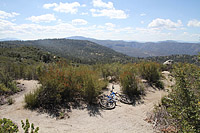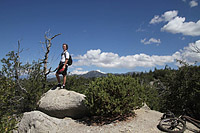 Photos from along the "Hard Sun" trail
Big Loop Up Top - This route is very similiar to the All The Way Around route a describe above. From the trail head you will take the east side trails up to Topimator and then peel off onto Sleepwalker and then Dreamtwister. You will vary from there by taking Optimator down to Smokestack and then do The Upper and Lower Tubs. From there you turn left (uphill) on the fireroad. You will pass the fireroad out to Chimney Flat and the next fireroad junction you will continue start and shortly there after pickup the Rattlesnake trails and then meander your way uphill on the singletracks. The singletracks will eventually come back out on the fireroads where you will finish off a short climb back to the trailhead.
Top Tubs - This is a slight variation on the Big Loop and All-The-Way Around. It takes a differnt set of trails up east side trail up to Topimator and it cuts our Sleepwalker and Dreamtwister, but adds in the Grotto and Gultch trails.
Project X - Hellrazor - This is a shuttle ride through this area that starts in Pine Cove and takes you down to highway 74 near Hemet. When I first rode this trail is was an "off-the-books" route but these days its on the map. This trails mostly for the downhill/all-moutain type riders. Before doing this route check with folks at Hub Cyclery to find out where the current acceptable location to park at the top and bottom are. At the top the locals don't take appreciate assholes parking next to their house and blasting music and talking loudly while they get ready to get thier shread on. For parking at the bottom, we have not typically parked right at the bottom of the trailhead but instead of went further down HWY 74. Once again check with The Hub folks for the latest information. This route is a real hoot and you have seen it in some of the Intense promo videos. The uppersection of this route is Project X which has some nice singletrack with oppurtunitiys for some airtime. Project X rolls out into the Tubs area where you get to enjoy some curvy singletrack bits before you connect up with Hellrazor for the big descent down to Highway 74 on the way to Hemet. Hellrazor is the most demanding part of this trails with steep grades, ruts and technical ground features.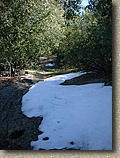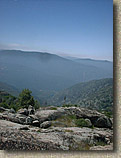 Some rather old school photos from back in 2003 (believe was taken with a "high-tech" 1.2M pixel camera :-)


A view heading up the fire road


A view a little further up near the top of the fire road.
The Ernie Maxwell Trail
The Ernie Maxwell trail is now off-limits to bikes. I'm not sure when access was hanked but with the growth of the other trails in the area its loss has been fairly well mitigated. These pictures were taken in 2003 during an after lunch ride after a pre-lunch ride out on the Hub trails. I'm leaving this section on the page for mostly my own archival purposes and evidence that I used to be a skinny mountain biker. The north end of the trail is at Humber Park at 6,409 feet and travels 2.5 mile down hill with an elevation drop of a little over 700 feet before coming out on South Ridge Road. Back when it was open to bikes it was recommended to not ride this trail on a weekend as it is very popular and you would have to watch out for and stop for hiker at least half a dozen times on this stretch of trail. While I dislike any time a trail is often limits to bikes, there is such a good inventory of quality trails in the area this is not a tragic loss.
Webster Trail
There is a quite technical trail in the Alvin Meadows area that is a real blast but it is for experienced riders only. It is annotated on the map as a red dashed line. To get to you must climb up the big fireroad like you where going to the top of the Optimater (described above). You will continue past that trail for about 1/4 mile on the fireroad until you see the well marked Webster trail on your left. The trail starts off fairly gradual in the woods with sweeping turns and switchbacks. As you continue on it opens up into chaparral, and it gets more technical with rocks, ruts all while the grade steepens. This trail cashes out over 2,000 feet of elevation in around 2.5 miles with most of that occurring in the 3/4ths of mile. This trail sees very little use which adds to its difficultly with overgrown bushes sneaking onto the trail. The trail eventually dumps you out at really pretty stream that is flowing even in the heat of the summers. At this point the trial is non-existent. You will have to boulder hop and walk down the stream for about an 1/8th of a miles before you will pick up the trail (more like a well used game trail) on the east bank (left if walking down stream). From here you will follow (as in hike) a the faint trail that switchback up the side of a dreadfully steep hill back up to a fireroad.
WARNING: This trail is no joke. You are out in a pretty remote spot where most likely nobody may come by for days. I would not ride this alone. Also in the summer water can be a huge issue. A water filter or tablets would be could to have here as you could resupply while down at the creek. After a grueling hike-a-bike out of the bottom to the fireroad you will still have 4.5 miles of fireroad climbing to do to get back to the parking area. With that said it is an experience worth doing at least once.
I have not done this route in years. I would check with the folks at Hub Cyclery before heading off down this trail.

We did a bit of exploring early on that included a bunch of climbing all the way up into Pine Cove before we started heading back down into the Alvin Meadows area.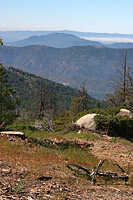 Here are some of the views from up near Pine Cove. I would have taken more photos but I was gasping too hard to operate the camera.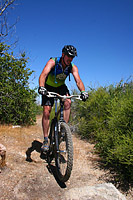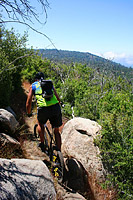 There are dozens of awesome spots to take shots, on the way down "Optimater" but on all occasions to date, I was having way too much fun to stop more that just a couple of times.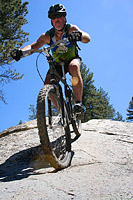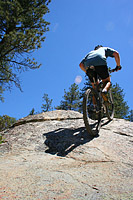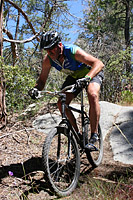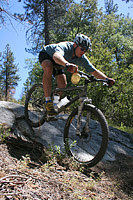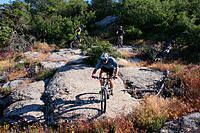 Once back down into the main area we had a blast on the well laid out singletracks which offer a wonderful mix of trail features.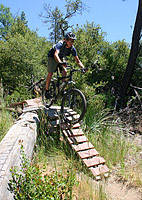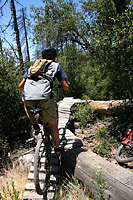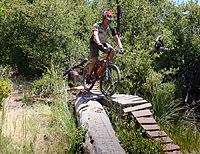 We even found a North Shore style bit of trail that had a functional obstacle that takes you up and over a huge fallen tree.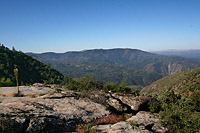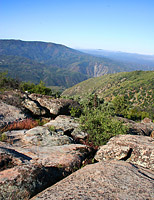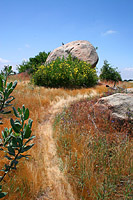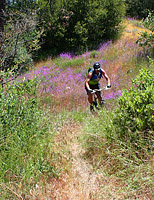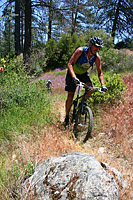 This is a place where you should become inspired by either the trails or the views from them.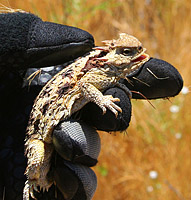 This critter seemed a little horny.