Copper Canyon, Mexico - The Canyon
Day Five - Descent into the Canyon
Here is a map of the Copper Canyon Area
I slept much better last night and the day started off with only one rooster announcing sunrise far off in the distance. Did I mention how great dinner was last night? We packed up early and were on the road out of Cusarara for a 75 km drive to the dirt road that leads to Copper Canyon and Batopilas. The dirt road would be considered a fire road by most people's standard. It is a narrow one lane rocky road that has sparse pull outs for vehicles. We did not start at the very beginning of the dirt road; instead we drove about five miles down the road to cut out a large climb. We would be traveling 37 miles today down to Batopilas so cutting out a climb did not hurt anyone's feelings.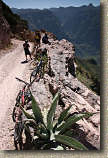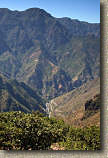 Once on the bikes we rolled mostly downhill for about five miles and then all of the sudden the road bends to the left and WOOOOOW! The canyon opens up into the most surreal of landscapes that just makes your jaw drop. I tried to take in the plethora of Kodak moments but ultimately found myself nearing sensory overload. The vista was absolutely amazing and I instantly felt that I must be blessed to see what could easily be one of the most beautiful places on the planet. Looking far below you can barely see the La Bufa Bridge over the Rio Batopilas. This "finger" canyon that we were descending is Batopilas Canyon which is one of the five major canyons that make up the Copper Canyon system. It is the third deepest canyon on the five at 5,904 feet, but is still deeper than the Grand Canyon (4,674 feet) by over 1,200 feet. It is also much more lush and green than the Grand Canyon.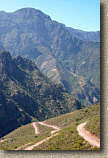 After a long break at the top we started the switch backing descent down into the canyon. Here is an aerial photo of the main portion of the switchbacks. You could have a rip roaring speed fest to the bridge but please stop often on the descent down as every turn brings new and exciting vistas within "frame". Also watching your speed is not a bad idea as well. You will undoubtedly notice the many small shrines along this road. Each one represents at least one person who died why traversing along this route. Take care not to come into the switchbacks too hot so as to avoid not having your own shrine erected.

Once we came to the first "bottom" and crossed the La Bufa bridge we climbed for about a mile to the actual "town" of La Bufa. La Bufa is an old mining town that during the height of it's silver mining productivity was home to over 1,800 people. Today, La Bufa is home to only seven. The most interesting character of the group is Chavez. Chavez used to be the sheriff of La Bufa and he has only one arm. He lost that arm during a dynamiting "accident". The story, as I heard it, is that Chavez and some friends were drinking and throwing lit sticks of dynamite down into the canyon for fun. Chavez and his friends got pretty freaking drunk and while doing this, Chavez mistakenly lit a stick of dynamite and threw his beer into the canyon. OOPS! There is a lesson to be learned

here folks. If Chavez would have been wearing one of those beer holder hats with the hose thingy he would be sporting two arms today. Anyway, La Bufa is just a few buildings today but there is a tiny little store and there is a water spigot that has really good spring water. It is hard to find the spigot, so you will have to ask. The sag van setup lunch here and we enjoyed a nice lunch before heading out of La Bufa.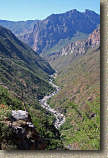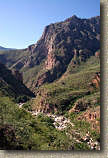 There was a good 20 miles left to go from La Bufa to Batopilas. While ultimately there is only a 2,000-foot elevation difference between the two towns there are several climbs in the middle that will wipe the smile off your downhill face for a bit.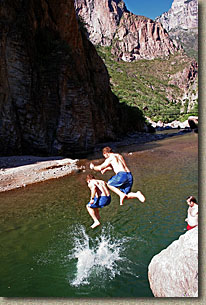 We stopped somewhere along the way and took a trail down to the river for an extremely refreshing swim. The main entry method was a large boulder that made for at least a 12 foot jump into the river. Kevin schooled us all in the acrobatics department with might fancy 1 ¼ gainer. I earned high points for a rainbow creating cannonball that some said only Moses could have removed more water from the river than I did. After our fun in the river we were back on our way.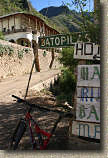 An hour our so later we pasted by Magarita's La Hacienda, a hotel that was made from one of the mine ruins.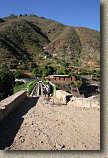 Just a few miles later and we were crossing the bridge into the town of Batopilas. I could feel a spirit about this very rustic and authentic town as we spun through the concrete and cobblestone streets on our way to the town square and our hotel. There were kids playing in the streets, chickens, burros, and pigs were all seen along the way. I even saw a bull down in the river. The place is much better experienced than described.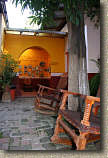 Our hotel was absolutely great. It only had about eight rooms which our group totally took over. Pretty much all of the rooms opened onto a wonderfully tropical courtyard where you can almost hear it whispering "siesta time". We all settled in and relaxed for the evening. After dinner the town was basically shutdown so we kicked back in the courtyard and told entertaining stories that culminated in someone going on a Snipe Hunt.