Yeeehahhh! There is a mighty fine chance that you will not be able to resist the urge to scream that at some point during this 12 mile or so ride in the red rock hills west of Las Vegas. Wither it is the wide vista of the Las Vegas strip far below you from the top of Blue Diamond hill or the rocky technical goodness you will find on the "Bone Shaker" trail, you are going to find something to get you going here. I first rode out here in 2006 and I have been back a handful of times since then.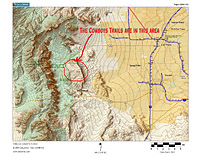 Directions: From San Diego, drive a crap load of miles north on Interstate 15. After a couple of tanks of gas or so you should be on the outskirts of Las Vegas, Nevada. Look for the Blue Diamond/HWY 160 exit. Take that exit and turn west. After about 12 miles turn right on highway 159. You will take highway 159 maybe 10 miles or so. After passing by Bonnie Springs you should see signs for the Red Rock Canyon National Conservation Area Visitor Center. Take note of your odometer when you pass these signs because the trailhead is 1 mile before the Visitor Center on your right. There is a large Wooden sign in the parking area that says "Horseback Rides". Park and ride.
You will notice that there are four double-black diamond downhills in this area. I find it hard to do more than one of those during a visit. The trails are all taxing from both a cardio and a technical standpoint. Don't let the mileage fool you. Bomb Voyage is a no joke technical descent that has some high consequence spots that I found to have a high pucker factor. On my next visit I'm going down Bob Gnarly. My Ridge Loop is tailored to avoid this gnarlier descents but they are still not piece of cake.
Ride Notes: Most of these notes are from my first ride out here in 2006 where we basically did the Bone Shaker Loop linked above.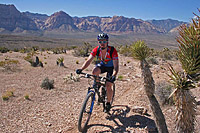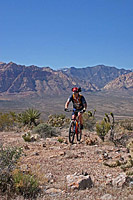 I went with someone who already knew the trails so I do not have much in the turn-by-turn directions department to give out. What will generally work well is to turn right immediately after going through the gate and start climbing along the singletrack. It is a little horse beaten at this point, but quickly gives way to some nice rocky singletrack. If you turn right at every opportunity you will get the most mileage in.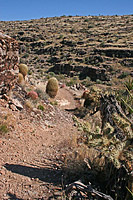 There is one loop that can be easily missed, and is well worth being looked for. As you are doing your climbing and taking a right at any splits, you will go across a mine tailings pile. If I had to guess on your mileage from the trailhead at this point I would say it was around two miles. The tailings pile is fairly obvious as the rocks and soil are quite out of place from the normal terrain. You will soon climb off the tailings pile as the trail continues climbing while making a sweeping left followed by an right hand bend. Just after the bend the predominant trail makes a 90 degree turn to the left and there is another (and much less used) trail off to the right. Take this trail and you will be treated to some fantastic trail features that includes some nice rock ledge moves on both the climbs and descents. This trail will eventually take you back out near the tailings pile and the trail you have already climbed once before. Retrace your route back to the 90 degree turn again and this time take the left and continue on the main trail.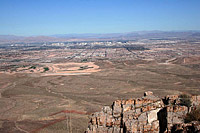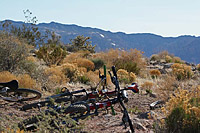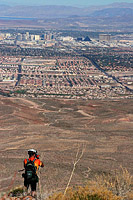 The climbing will continue with a few significant undulations here and there as you drop down into a few finger canyons and then work your way up the other side. You will eventually work your way up to the top of Blue Diamond hill where the view of the Vegas Strip comes into view.<- Tired Bikes resting at the top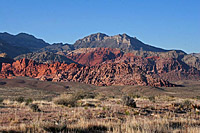 After you have had your fill of the view from the top, there is really only one way to go as the trail turns downhill. There are drops here and there to keep you honest so be on the lookout. Less than half a mile from the top there is a split in the trail. The trail to the right goes downhill into a finger canyon and the trail to the left climbs up to a ridge. To the right will take you down towards the trailhead, and the left will keep up higher for a while longer. We went to the left in order to get to the top of "Bone Shaker".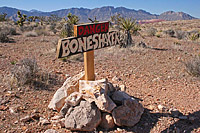 Bone Shaker is an extremely rocky and often steep descent that has a bunch of two to four foot drops that require you to be on your toes. There are also a couple of five foot or so drops that go out of the roll category into the huck zone. Additionally, the bottom gets extremely loose with some tight switch backs that will test your bike handling skills. While you can go really fast in some sections on this trail, it is the technical features and setups required for some to the combination moves that make this a great trail in my book.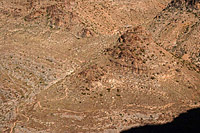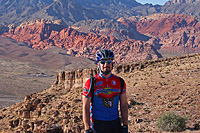 The bottom of Bone Shaker dumps out into a small meadow. Also coming into this meadow is the trail that I mentioned above that split off to the right near the top of Blue Diamond Hill. We turned to the left and worked our way gradually down the meadow until the trail came out on a dirt road. We turned to the right and followed the dirt road back to the trailhead that was not more than a half mile away. This was a great opener for my Nevada - Utah 2006 Road Trip.