This trip came together rather quickly so there was not much in the way of planning on my part. So before I was knew it just happened. My long time riding bro Mike and I left Casa Del Bill at O-Dark Thirty and made our way up to Orange County to pick up Jerry and bike for what would turn out to be an awesome weekend. After picking up Jerry we started cruising northward towards Las Vegas for a planned reunion of the Toe Clip Mafia (Yes people still use those things, at least two anyway) at 2:00PM at the Cowboy Trails. Jerry works nights so the plan was for him to snooze on the way up. While he did get in a couple hours of sleep, our chit-chat about anything mildly related to mountain biking cut into his sleep time. We made good time up the "Highway of Dreams" arriving in Vegas early enough to grab a bite to eat before hit the local roads to the trailhead. I'm a knucklehead as I continually forget how big of a slug I turn into on the trails after eating a bunch of food. So after an In-and-Out Double-Double combo meal we were off to the Cowboy Trails.
Kevin was also a little early so we were on the trail right at 2PM. The views of the Red Canyons to the west of the trail system are quite impressive. I had plenty of time to soak in the views as I suffered on the climbs for the first half hour as my body tried to shift gears from digesting the yummy grease laden burger (with grilled onions) in my belly to feeding my legs. The suffering was over soon over enough and the fun really started. This trail is remarkable having plenty of technical goodness, stiff climbs, and great views. Great flora, fauna, and strata as Jerry put it.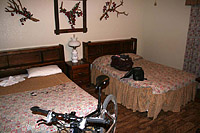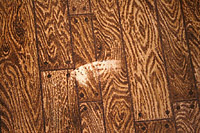 That night we stayed in the Bonnie Springs Hotel just down the road from the trailhead were Mountain Bikers get 10 percent off. We had heard the place was "funky" and the place lived up to that reputation. Of particular note are the numerous free range peacocks wandering the grounds that help add to the ambience of the place. They also make very good guard pets as they make a hell of a lot of racket when disturbed. They sound like a combination of a cat being vigorously rubbed against a cheese grater and my Aunt Ethel's laughter when she gets really drunk. Either way they are pretty entertaining. The rooms were quite swanky. A really nice touch was the wood carpeting which was mighty plush and just like my road trip last year this place had all of the best accommodations including a designated iron storage location. That night we ate some really great food at the hotel restaurant and within an hour the food-induced comas started setting in.
We got up the following morning, packed up and headed north to the land of 3.2% "Beer" and my second ride on Gooseberry Mesa. This was Mike's first time to the Mesa and I can only imagine how many times Jerry and Kevin have ridden up here. The mesa was a whole big bunch of fun as the terrain is just so unique. I found Gooseberry to be just as fun and exciting as it was last year and found than some of my skills on the rock had improved since my last visit. I bring along my bigger bike for this ride which certainly took the edge off of some of the transitions.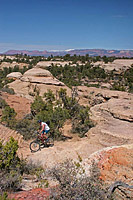 I had a great time on the trail and managed to get in the portions of the mesa that I did not ride last year. This is one of those rides where you get an added bonus seeing the reaction of first time riders to the Mesa. Mike had a good day on the Mesa and it was fun to watch him learn how to trust the grip the rocks.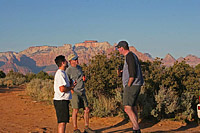 After the ride we enjoyed some highly illegal Stone and New Belgium beers smuggled in from Colorado and SoCal. We spent the evening recanting the days events at a most generous friend's house before crashing for the night.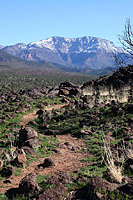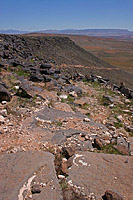 The following morning we were up at a reasonable time, and were off for coffee and some breakfast before heading off to Broken Mesa. I decided to commemorate the fine Utah Sunday morning with a double espresso, heavy on the sugar. We opted to do this ride as a shuttle so we could get on the road earlier in the afternoon. Broken Mesa was some exceptional riding and the upper portion of the Ice House trail that we added on this year was a great bit of trail. If you do this ride it is absolutely worth it to do the out-and-back portion of this trail.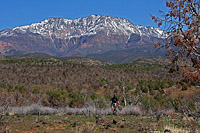 We were back back at our friend's house early enough to enjoy some more smuggled in treats while showering and packing up. We were on the road by 3:00PM and made pretty good time despite the Las Vegas to Los Angeles returning gambler traffic. We seemed to have more smiles on our faces than they did. I dropped off Jerry at Casa Del Freak around 9:15PM and continued beating feet southward. I was home by 10:30PM and just threw everything in the garage in a hurry. I was asleep by midnight and was already replaying the trails in my dreams that night.
One word of advice to add here: If you should quickly throw everything in your garage at the end of a trip like I did, try not to wait a week before fishing out the smelly bag of laundry. Whew!