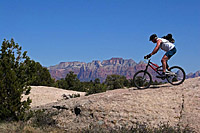 Located outside of Hurricane Utah, Gooseberry Mesa is one of those places you have to ride it to believe it. The mixture of singletrack and griprock is pretty awesome with lots of swooping and flowing lines across fields of solid rock. The place has very little elevation change but you will do enough short quick ups to peg your ticker on plenty of occasions. If you have never ridden on the stuff before it can be pretty crazy at first because it almost defies logic that you can climb some of the stuff.
Ride Notes: I first rode the mesa in 2005 and this page is primarily based on a 2006 visit. Since then I have ridden Gooseberry numerous times. It is big day to ride about 80 percent of the stuff here as there is a lot MTB per mile out here. If you do not have a pressed schedule, it is very enjoyable to split the mesa up into a couple of days and enjoy some sessioning on the features. Dispersed camping is available on the mesa and it is very cool to roll out from camp.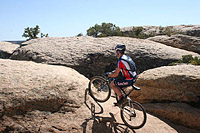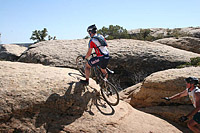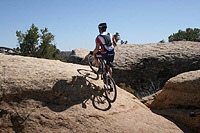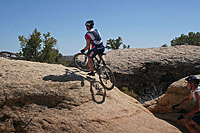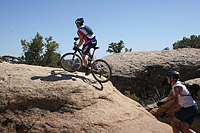 Here is a sequence of shots of Mike getting up a particularly steep rock (Steeper than it looks). The three on the right are a failed attempt. Even with the incredible traction you get on these rocks you still need to a good bit of speed to get up some of them. The picture on the left shows the compression of the front tire as he hits a bit of a dip in the rock. The next picture shows both wheels off the ground from springing off that dip. The right three show Mike getting it done. Jerry is playing spotter.