Whiting Ranch Wilderness Park by itself is a rather small riding area in the Lake Forest, Portola Hills area that butts up against the southern flanks of the Santa Ana Mountains of the Clevland National Forest. While the trails here can be ridden by themselves I have rarely done so. One of the awesome features of the trail system is that it provides trail connectivity into the mountain trails such as the Santiago Truck trail and "The Luge" as well O'Neil Park. The Serrano Creek and Aliso Creek bikeways provide a means for the surburanities (SirBourbonites looks like a cooler spelling to me) to access the area from the south. This makes this a very popular riding area in Orange County.
The Santa Ana Mountain Range and the directly connected foothills are estimated to support a population of up to 30 Mountain Lions. Whiting Ranch is part of those foothills and housing developments line the ranch on three sides. It has gained some notoriousness over the years due to Mountain Lion sightings and several attacks. The most serious occuring in 2004 when a mountain lion killed (and parially consumed) a mountain biker and severely injured another biker. Numerous sightings and at least one attack has occured in the following years. While atacks are exceedingly rare, it is something to keep in mind when recreating in this area as Whiting Ranch and the Santa Ana Mountains are these amazing creature's home. Please visit the Mountain Lions of Orange County page for some further information and precautions on dealing with the creatures if encountered.
Ride Report: Some of these photos are from the way back machine, AKA 2001 which predates the start of this site which happened in 2002.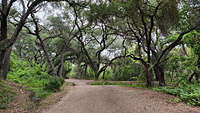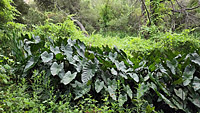 I first need to stipulate that I have only once ridden just Whiting Ranch. I live in San Diego county so if I am going to commit to the drive to get here, I am going to do a larger loop such as the Whiting Ranch, Santiago Truck Trail and the Luge Loop. Here I'm just going to describe the base Whiting Ranch Loop which is great after work quickie if you live closer than I do. You will start this loop off by picking up the Borrego Canyon trail and heading northeast. This is a one-way trail for cyclists. After about 1.5 miles, you will hang a left onto the Vista Lookout trail. This trail gets steep and if you are so inclined you can grunt up to a pretty descent viewpoint.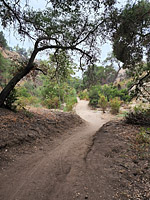 For this route you are going to hang a right on to the rather short Cattle Pond trail. At your next junction hang a left onto the Mustard trail and continue climbing. Things get steeper at this point until you get to the next junction which is known as Four Corners. If you are going to do the Santiago Truck Trail and the Luge you will want to hang a left at this junction. That will take you out to Santiago Canyon road.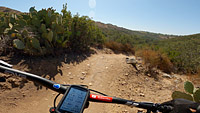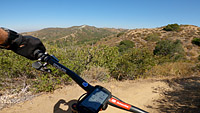 For this loop you are going to go straight through this junction and then turn south. The trail will then split and you will want to stay to the left onto the newish Cactus Hill Trail. This is a fun bit of near singletrack that descends for about half a mile down to Santiago Ranch Road. It has a bunch of Whoop-De-Dos, pump rolls and near-tabletops. If you know what you are doing you can get some nice little pops and boosts from these features. If you are not paying attention you could find you self getting bucked off your bike.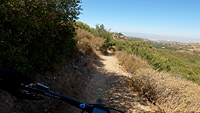 From there you will hang a left onto Santiago Ranch Road and get your climb on for a short but steep bit. You will come to another junction right as you get up on the ridge. This junction is worth noting as when you do the larger loop with the Santaigo Truck Trail and The Luge you would be rejoining Whiting Ranch at this junction. For this short loop you will be turn to your right onto Vulture View Road and stay on the ridgetop. Vulture View Road will follow along the ridgeline for about half a mile an to the top of the Sage Scrub trail which descends off the ridgeline. Sage Scrub will roll into Sleepy Hollow which goes down to Whiting Road where you will turn left (downhill).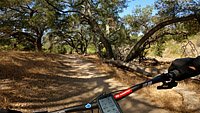 Once down on the canyon floor you will soon pass the concouse trail on your left. Stay to your right (which is also slightly downhill) onto Line Shack. At your next trail junction bear to the right onto Serrano Cow Trail. If you find youself suddenly going uphill you missed the turn. Continue the gradual cruise down the canyon. There are several splits in the trail, but chose the slightly downhill and and right to stay on the Serrano Creek trail. The Live Oak trail is also a good option. If take the Live Oak Trail it will parallel Serrano Creek and at the Raptor Trail where you will hang a right and rejoin the Serrano Creek Trail where you will turn left. When you get to the point where the Serrano Creek Trail is about to go under Portola road turn right (East-Northeast) onto dirt pathway that takes you up to the street. Ride along Portola Parkway for 3 blocks back to where you parked.