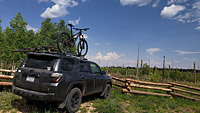 Getting out to the North Rim of the Grand Canyon is typically a sizable affair for most folks. One of the things I have been doing on the last few trips has been to do a different chunk of the Arizona Trail on the Kiabab Plateau. We had planned on doing the section between Jacob Lake to the Utah border on this trip, but that section had a fire closure in place. While the weather looked like it could be a little sketchy, we decided to give the section between Telephone Hill and Jacob Lake a shot. The segment we did on this day was 17.5 miles long starting at 8,850' and finishing at 7,500' with around 1,000' of climbing along the way. You can certainly do larger segments.
This was an exceptional pretty section of trail and I was plesantly surprised at how well the area is recovering after the 2006 Warm Fire which really did a number of a large chunk of the plateau. In some areas it was pretty much a horizon-to-horizon view. The ride started out sunny with some thunderstorms in the distance. We ended up getting rained on for a bit and had a short stint of stress when we had some lighting a bit too close for our comfort while up on a ridgeline. We were quite motivated to keep moving and get off that ridgeline. Luckily we just flirted with the edge of the storm and we were soon back in the sunshine and fully enjoying the day. It was quite a blissful day overall.
Paying to Play on the Virgin River Rim Trail
We finished the ride just minutes before another thunderstorm started dumping on the area. It was dark by the time were are on the dirt forest roads heading back to Locust Point. A one point I thought there was snow on the ground so I stopped to check it out. It was not snow but the ground was covered about an inch deep in hail stones about a quarter inch in diameter. Absolutely Crazy! This was apparently some kind of micro-cell of weather as there was not hail on the ground when we got back to camp.